Shri Bhupender Yadav inaugurates New Building of Directorate Insurance Medical Services at Panchkula ,lays Foundation Stone of three doctors ESI Dispensaries at Rai and Barhi, Haryana
19 FEB 2023 Delhi
Union Minister of Labour & Employment  Shri Bhupender Yadav in prescence of Chief Minister of Haryana Shri Manohar Lal  inaugurated the new building of Directorate Insurance Medical Services, ESI Scheme, Haryana at Panchkula and laid the foundation stone of 3 doctors dispensaries at Rai and Barhi, Sonepat district, Haryana from, Panchkula Chandigarh today. Minister of State for Labour & Employment Shri Rameswar Teli was also present on the occasion. During the event at Panchkula, a health check-up camp for the workers and their family members was also organsied.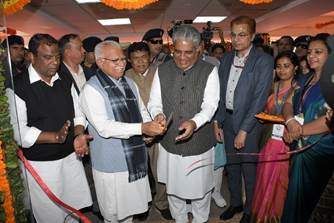 Dispensary at Rai, Sonipat
Considering the sizeable increase in the number of Insured Persons & their beneficiaries and to meet their primary medical care needs, the foundation stone of 3 doctors ESI Dispensary is being laid. The ESI Dispensary at Rai will be constructed at ED1 at Sector 38, Phase II, Industrial Estate, Rai (Sonepat). It would cater to 106440 number of beneficiaries.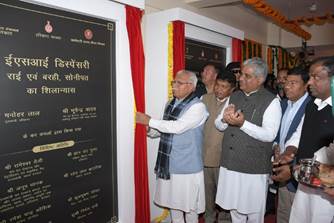 Dispensary at Barhi, Sonipat
The ESI Dispensary at Barhi is to be constructed at Plot ED-1, Phase 1, Industrial Estate, Barhi (Sonepat). It will cater to 32000 beneficiaries within the catchment areas of Barhi Industrial area, Ganaur and full stretch of NH44 up to Samalakha.
Directorate Insurance Medical Services (DIMS) Building at Panchkula
The new building of Directorate, ESI Scheme, Haryana has been constructed at Sector 14, Panchkula with a total project cost of Rs.8.38 crores.  The new Directorate building will help in better administration of ESI Scheme in Haryana besides providing services to workers at ease.
ESIC Scheme in Haryana
ESI Scheme was introduced in Haryana Region in the year 1953, while it was a part of composite state of Punjab with its Regional Office at Chandigarh. Initially it covered around 20,000 employees & 100 employers. When Haryana was carved out of Punjab in 1982 then the Regional Office was shifted from Chandigarh to Faridabad. Presently, ESI Scheme has been implemented fully in all the districts of Haryana covering about 23.19 Lakh employees working with 98,946 employers. For effective administrative control in the state, Sub-Regional Offices at Gurugram and Ambala have been established in addition to Regional Office in Faridabad. ESIC has been providing Cash and other benefits to the beneficiaries through 17 Branch Offices and 2 DCBOs (Dispensary Cum Branch Offices). Further, in the state of Haryana there are 04 ESI Scheme Hospitals, 03 ESIC Hospitals and 85 Dispensaries providing Health care to the Insured Persons and their dependants. Additonally, to provide Super Specialty Treatment, ESI Corporation has collaborated with 56 tie-up hospitals and to provide Secondary Care treatments to around 89,06,957 lakh beneficiaries.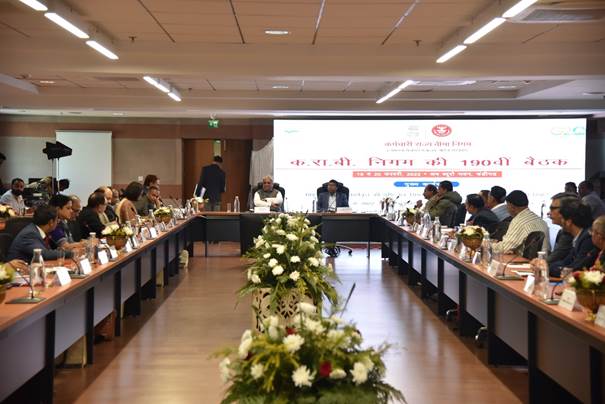 Shri Bhupender Yadav also chaired a tri-partite meeting  with the representatives of employers and workers on functioning of ESI Scheme at Labour Bureau Bhawan, Chandigarh. Zonal Medical Commissioners and Regional Directors  attended the meeting alongwith ESI Corporation members.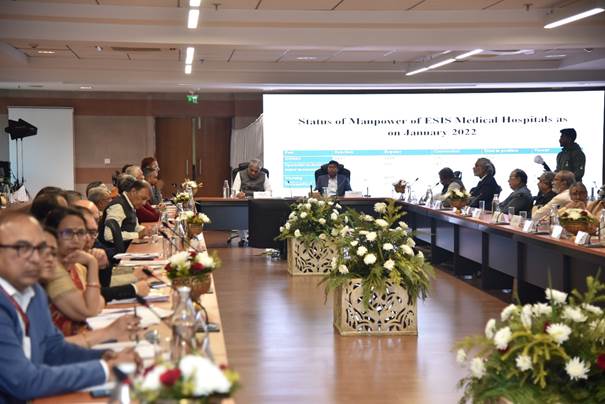 Separately, a meeting on "Occupational Safety & Health" was held under the chairmanship of Union Labour Minister, where the preventive measures and the role of ESIC in "Occupational Safety & Health" was deliberated upon. Director General, ESIC also presented "New ICT initiatives in ESIC" in the meeting. He briefed about the upgradation in ICT and new tech-based initiatives launched by ESIC to provide better services to the Insured Workers and their dependants.
************